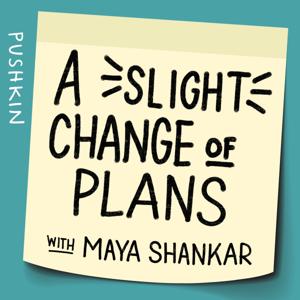 A Slight Change of Plans
By Pushkin Industries
What's A Slight Change of Plans about?
You can follow the show at @DrMayaShankar on Instagram.
Apple Podcasts' Best Show of the Year 2021 Editor's Note: Maya Shankar blends compassionate storytelling with the science of human behavior to help us understand who we are and who we become in the face of a big change. Maya is no stranger to change. "My whole childhood revolved around the violin, but that changed in a moment when I injured my hand playing a single note," says Shankar, who was studying under Itzhak Perlman at the Juilliard School at the time. "I was forced to try and figure out who I was, and who I could be, without the violin." Maya soon discovered a new path in the field of cognitive science, where she earned her PhD as a Rhodes Scholar studying how and why we change. Her insights into human behavior ultimately led her to create A Slight Change of Plans—Apple Podcasts' Best Show of the Year in 2021. You'll hear intimate conversations with people like Tiffany Haddish, Kacey Musgraves, and Riz Ahmed, as well as real-life inspirations, like John Elder Robison, who undergoes experimental brain stimulation to deepen his emotional intelligence, Daryl Davis, a Black jazz musician who inspires hundreds of KKK members to leave the Klan, and Shankar herself, who had her own "slight change of plans" earlier this year. The show also explores the science of change with experts like Adam Grant and Angela Duckworth. "What I love most about this show is that the content is evergreen," says Shankar. "You can listen to episodes in any order and at any time."