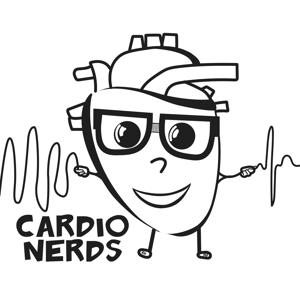 In this episode, CardioNerds (Amit Goyal), ACHD series co-chair,  Dr. Josh Saef (ACHD fellow at University of Pennsylvania) and episode lead fellow, Dr. Brynn Connor (Pediatric Cardiology fellow at Lucile Packard Children's Hospital at Stanford) are joined by Dr. Maan Jokhadar (Advanced heart failure and adult congenital heart disease specialist at Emory University) to discuss transposition of the great arteries. Audio editing by CardioNerds Academy Intern, Dr. Maryam Barkhordarian.
For a brief review of the basic anatomy and physiology of D-TGA, check-out this great video by Dr. Maan Jokhadar!
The CardioNerds Adult Congenital Heart Disease (ACHD) series provides a comprehensive curriculum to dive deep into the labyrinthine world of congenital heart disease with the aim of empowering every CardioNerd to help improve the lives of people living with congenital heart disease. This series is multi-institutional collaborative project made possible by contributions of stellar fellow leads and expert faculty from several programs, led by series co-chairs, Dr. Josh Saef, Dr. Agnes Koczo, and Dr. Dan Clark.
The CardioNerds Adult Congenital Heart Disease Series is developed in collaboration with the Adult Congenital Heart Association, The CHiP Network, and Heart University. See more
Claim free CME for enjoying this episode! Disclosures: None
Pearls • Notes • References • Guest Profiles • Production Team
CardioNerds Adult Congenital Heart Disease PageCardioNerds Episode PageCardioNerds AcademyCardionerds Hea...