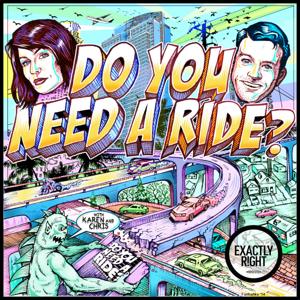 Do You Need A Ride? with Chris Fairbanks and Karen Kilgariff
By Exactly Right Media – the original true crime comedy network
What's Do You Need A Ride? with Chris Fairbanks and Karen Kilgariff about?
Each week on Do You Need A Ride? comedians Chris Fairbanks and Karen Kilgariff hop in the car with a funny guest to run errands, hit the drive-thru and sit in traffic.   Since DYNAR hit the road in 2014, Karen and Chris have been joined in their mobile sound studio by hundreds of celebrities, stand-up comedians and masters of improv including Joel Kim Booster, Tig Notaro, Patton Oswalt, Margaret Cho, Fortune Feimster and many more.   Do You Need A Ride? is part of the Exactly Right podcast network that provides a platform for bold, creative voices to bring to life provocative, entertaining and relatable stories for audiences everywhere. The Exactly Right roster of podcasts covers a variety of topics including true crime, comedic interviews, news, science, pop culture and more. The network is home to My Favorite Murder (hosted by Karen Kilgariff and Georgia Hardstark), Buried Bones, That's Messed Up: An SVU Podcast, Bananas and more.
Theme song written and performed by Karen Kilgariff!