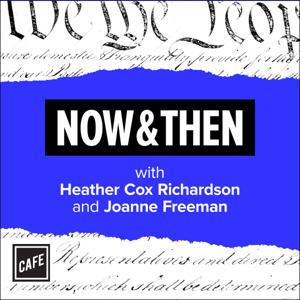 Does Anyone Love Taxes?
08.09.2022 - By Now & Then
How do Americans respond to taxation? What do trends around taxation say about American culture and values? And how can the history of tax policy help us to understand the recently-passed Inflation Reduction Act? 
Heather and Joanne discuss the legacies of the 1765 Stamp Act, the introduction of the income tax during the Civil War, and the tax-slashing ideology of 1920s Treasury Secretary Andrew Mellon. 
Join CAFE Insider to listen to "Backstage," where Heather and Joanne chat each week about the anecdotes and ideas that formed the episode. Head to: cafe.com/history
For more historical analysis of current events, sign up for the free weekly CAFE Brief newsletter, featuring Time Machine, a weekly article that dives into an historical event inspired by each episode of Now & Then: cafe.com/brief
For references & supplemental materials, head to: cafe.com/now-and-then/does-anyone-love-taxes/
Now & Then is presented by CAFE and the Vox Media Podcast Network.
Learn more about your ad choices. Visit podcastchoices.com/adchoices