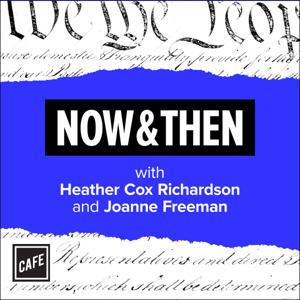 Encore: Creating Federal Holidays, July 4th to Juneteenth
11.30.2021 - By Now & Then
As we come out of Thanksgiving and welcome in Hanukkah, Kwanzaa, Christmas, and New Years, we revisit Heather Cox Richardson and Joanne Freeman's look at the American debates that accompanied the creations of July 4th, Columbus Day, and Election Day. Why do Americans celebrate? Why do we fight about our holidays? And what role have economics, popular culture, and governmental politics contoured our national festivities?
NOTE: This episode was originally released on July 6th, 2021.
Join CAFE Insider to listen to "Backstage," where Heather and Joanne chat each week about the anecdotes and ideas that formed the episode. Head to: www.cafe.com/history.
Sign up for the CAFE Brief, a free weekly newsletter that features analysis of news at the intersection of law, politics, and history: cafe.com/brief
For references & supplemental materials, head to: cafe.com/now-and-then/encore-creating-federal-holidays-july-4th-to-juneteenth
The executive producer is Tamara Sepper. The editorial producer is David Kurlander. The audio producer is Matthew Billy. The Now & Then theme music was composed by Nat Weiner. The Cafe team is Adam Waller, David Tatasciore, Sam Ozer-Staton, Noa Azulai, and Jake Kaplan. Now & Then is presented by CAFE and the Vox Media Podcast Network.
Learn more about your ad choices. Visit podcastchoices.com/adchoices