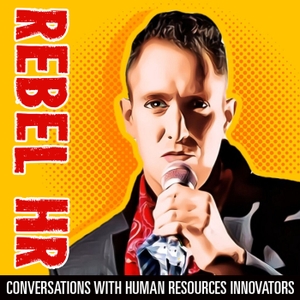 Join Kyle and Molly as they speak with Melanie Wertzberger.  Melanie is the founder of Shaka, an online platform that helps companies keep their employees engaged. She has done extensive research on how to attract, manage and engage Gen Z talent.
joinshaka.com
https://www.linkedin.com/in/melanie-wertzberger-866297111/
https://twitter.com/MWertzberger
Rebel HR is a podcast for HR professionals and leaders of people who are ready to make some disruption in the world of work.
Subscribe today on your favorite podcast player!   We'll be discussing topics that are disruptive to the world of work and talk about new and different ways to approach solving those problems.
Follow Rebel HR Podcast at:
www.rebelhumanresources.com
https://twitter.com/rebelhrguy
https://www.facebook.com/rebelhrpodcast
www.kyleroed.com
https://www.linkedin.com/in/kyle-roed/
We love to hear from our listeners!  Send us questions or comments at [email protected]
Rebel On, HR Rebels!
Did you know that podcasts are a great way to grow your personal and business brand voice? Here's the secret, we all want to feel connected to brands we buy from. What better way to humanize a brand than through sharing your story on a podcast. Kitcaster is a podcast booking agency that specializes in developing real human connections through podcast appearances. If you are an expert in your field, have a unique story to share, or an interesting point of view-- it's time to explore the world of podcasting with Kitcaster. You can expect a completely customized, concierge service from our staff of communication experts. Kitcaster is your secret weapon in podcasting for business. Your audience is waiting to hear from you. Go to https://kitcaster.com/rebel to apply for a special offer for friends of this podcast.
Buzzsprout - Let's get your podcast launched!
Start for FREE
Disclaimer: This post contains affiliate links. If you make a purchase, I may receive a commission at no extra cost to you.Support the show (https://www.patreon.com/rebelhumanresources)