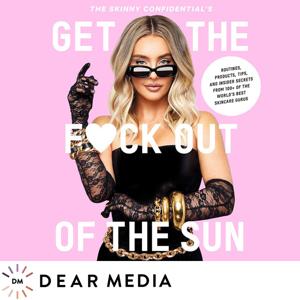 Get The Fuck Out Of The Sun Podcast
By Lauryn Evarts Bosstick
What's Get The Fuck Out Of The Sun Podcast about?
Lauryn Evarts Bosstick is the entrepreneur & creator behind The Skinny Confidential, a blog, brand, podcast, and product line that reaches millions as a go-to cheeky beauty and wellness resource.
Her new book, "GET THE FUCK OUT OF THE SUN" features ALL the beauty gurus you want to hear from— think Kristin Cavallari, Patrick Starrr, Lisa Vanderpump, Justin Anderson, Dr. Dennis Gross, Summer Friday's founders, Dr. Barbara Sturm, Chriselle Lim, Stassi Schroeder, Dom Roberts, Molly Sims, and MORE.
In this new, sparkly limited series podcast, "GET THE FUCK OUT THE SUN," she sits down with some of the top experts in the industry to go deeper into all things beauty and wellness. Taboo conversations, no holds barred topics, and of course, lots of realness…all served to you on a pink platter.
Want to know what foods you should eat for healthy, glowing, plump skin? Interested in non-invasive, preventative treatments and procedures? Looking for a hack to use tools you already have at home — or just ones you can grab on your next drugstore run? Filler, Botox, plastic surgery? WE GOT YOU.
Lauryn covers all of this and more. NO questions or topics are off-limits. So grab a skinny margarita because your favorite beauty gurus will be giving you the SKINNY.
New GTFOOTS episodes are available every Wednesday beginning on September 22nd for a limited time anywhere you listen to podcasts. Cheers! x