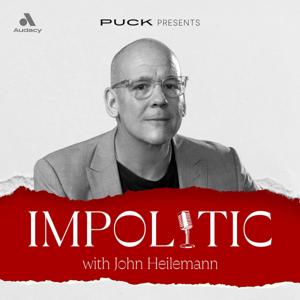 Hell & High Water with John Heilemann
By The Recount
What's Hell & High Water with John Heilemann about?
Living in America these past few years has been like living in a movie—a mashup of Blade Runner, A Clockwork Orange, and Idiocracy, that is. The never-ending pandemic, the routine mass shootings, the climate literally and figuratively on fire; the economy first battered by recession, then ravaged by inflation; an angry electorate, armed to the teeth and addled by conspiracy theories, as our democracy teeters on the brink, with Donald Trump still working overtime to push the whole thing off a cliff. On Hell and High Water, John Heilemann — host of Showtime's The Circus, co-author of Game Change, and national affairs analyst for MSNBC — explores this apocalyptic-seeming moment with seminal figures in politics, entertainment, business, tech, the media, and beyond. The conversations are deep, rich, and bracingly real, but also hopeful, as Heilemann and his guests grapple with the fact that, to quote Bob Dylan, "Everything is broken," and try to figure out how to fix it … together.
Hosted on Acast. See acast.com/privacy for more information.