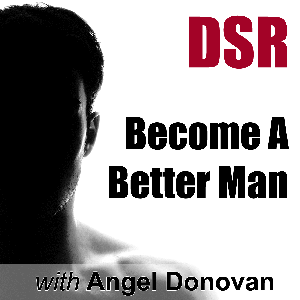 In this episode Angel Donovan gives advice on:
- How do you date a girl who is not over her ex? (01:40)
- Understanding women and why they do the things they do (04:42)
- Creating a situation during the dating phase that you actually wanted to avoid (10:18)
- The importance of giving a woman a new emotional experience (17:00)
- How your dating experience affects your behavior in the early stages of dating a woman (21:21)
- The "neediness" of clinging to a past relationship and the ability to let go and move on (26:45)
- Takeaways to help you deal with the reality of dating women (29:45)
GET MORE: Show Notes & Resources, Interview Transcript and Comments.
HELP ME SPREAD THE WORD!
Think this episode was Kick-Ass?
An iTunes review would be SO appreciated! This is what helps me stand out so I can help more men like you.
Click here to review the show.
FEEDBACK
Hit me up with your comments and guest suggestions. I read EVERYTHING.
• Email: [email protected]
• Get my newsletter: Click here to get my Newsletter
• Got a question? Drop it in our voicemail to get it answered: 323.747.5006
MORE FREE STUFF:
• Get the Fast Track Dating System
• Get Monster Brain Dump from our Editorial Team on Top Advice of All Time