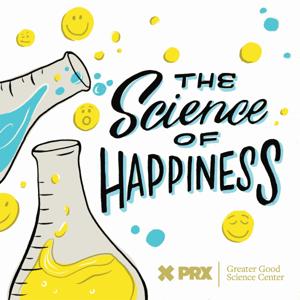 When we feel more connected, we're kinder and care more for others. After 21 years of being incarcerated, our guest Simon Liu, of Bay Area Freedom House Collective, tries a practice that helps him remember the profound connections he's made both inside and out of prison // throughout his life.
Link to episode transcript: https://tinyurl.com/585nkppu
Episode summary:
When's the last time you felt a deep connection with someone, and then really reflected on your connections? This week on The Science of Happiness, our guest tries a writing practice to feel more connected to those close to him. Simon Liu is the co-founder of the Bay Area Freedom Collective, a home where other formerly incarcerated people can find community and connections. Simon talks about the importance of the social connections he made while in prison, and outside. Psychologist David Cwir explains how finding and building connections not only supports our emotional well-being, but can also change our bodies.
Practice:
Feeling Connected
Think of a time when you felt a strong bond with someone in your life. Choose a specific experience where you felt especially close and connected to them. Spend a few minutes writing about what happened during the experience. In particular, consider how the experience made you feel close and connected to the other person.
Today's guests:
Simon Liu co-founded the Bay Area Freedom Collective, a home by and for formerly incarcerated people, which provides resources and support for their re-entry. Simon is also a software engineer.
To learn more about Bay Area Freedom House: https://www.collectivefreedom.org/
or: https://www.facebook.com/bayareafreedom/
To financially support the Bay Area Freedom Collective: https://tinyurl.com/2p93j8x8
David Cwir is an associate professor of psychology at Briercrest College and Seminary. His research has looked at how moments of social connection with strangers can positively affect our bodies and minds.
Learn more about this practice at Greater Good In Action:
https://ggia.berkeley.edu/practice/feeling_connected
We'd love for you to try out this practice and share how it went for you. Email us at [email protected] or use the hashtag #happinesspod.
Help us share The Science of Happiness!
Leave us a 5-star review on Apple Podcasts or copy and share this link with someone who might like the show: pod.link/1340505607
Resources for Feeling Connected:
Harvard Health — Easy daily ways to feel more connected: https://tinyurl.com/5jxykfhb
NPR — 4 tips to stay connected when your friends live far away: https://tinyurl.com/2p82en68
The New York Times — Need to Dust Off Your Social Skills? (featuring Dacher): https://tinyurl.com/yckwkmku
How to Start Over (The Atlantic) — The Misgivings of Friend-Making: https://tinyurl.com/2ysn7zd2
Invisibilia — Therapy, With Friends:https://tinyurl.com/yvmkkbrs
More resources from The Greater Good Science Center:
Feeling Connected Makes Us Kind: https://tinyurl.com/f5xd27ue
Is Social Connection the Best Path to Happiness? https://tinyurl.com/2v9e9c9n
Why You Click With Certain People: https://tinyurl.com/2p8w38rw
Why Are We So Wired to Connect? https://tinyurl.com/bddukrxx
Listen to our episode, "Who Makes You Feel Connected?" https://tinyurl.com/4pmj775a
Listen to our episode, "What Are Your Strongest Reminders of Connection?" https://tinyurl.com/sbs6waha