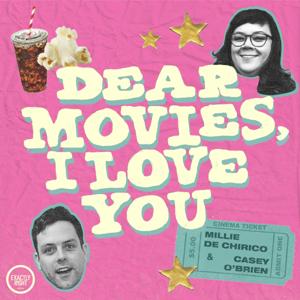 I Saw What You Did - a film podcast with Danielle Henderson and Millie De Chirico
By Exactly Right Media – the original true crime comedy network
What's I Saw What You Did - a film podcast with Danielle Henderson and Millie De Chirico about?
Millie and Danielle, a film expert and a film enthusiast, program a double feature of their favorite movies with a different wild theme every week. Join these friends as they dissect the films and explore the weird ways we respond to and learn to love movies.
Millie De Chirico is a film programmer, writer, and historian with a career spanning nearly 20 years. She co-created and programmed the weekly cult movie franchise TCM Underground for Turner Classic Movies from 2006-2023. Her book, TCM Underground: 50 Must-See Films from the World of Classic Cult and Late-Night Cinema, is available now. Danielle Henderson is a TV writer and her credits include Difficult People on Hulu, Divorce on HBO, Maniac on Netflix, Dare Me on USA and more. Her memoir, The Ugly Cry, is available now.
I Saw What You Did is a welcome diversion from your usual film podcast. This is two emotionally intelligent Gen X women of color discussing cult classics through a feminist lens, all while sharing hot takes, revealing their film crushes and answering listener questions.
I Saw What You Did is part of the Exactly Right podcast network that provides a platform for bold, creative voices to bring to life provocative, entertaining and relatable stories for audiences everywhere. The Exactly Right roster of podcasts covers a variety of topics including true crime, comedic interviews, science, pop culture and more. Podcasts on the network include My Favorite Murder with Karen Kilgariff and Georgia Hardstark, That's Messed Up: An SVU Podcast, This Podcast Will Kill You, Bananas and more.