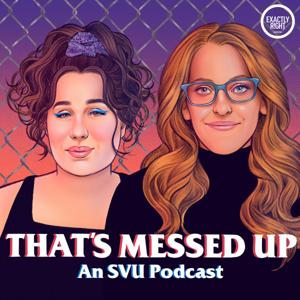 That's Messed Up: An SVU Podcast
By Exactly Right Media – the original true crime comedy network
What's That's Messed Up: An SVU Podcast about?
Each week, comedians and amateur detectives Liza Treyger and Kara Klenk break down episodes of NBC's Law & Order: SVU, take a deep dive into the true crimes they're based on and interview on-screen talent, ranging from big stars to joggers who find the body. These are their stories. Dun dun!
Tune in as they discuss all things not only Law & Order: SVU, but unfiltered hot takes on entertainment, TV, pop culture and more! Members of the elite squad like Kelli Giddish, BD Wong and Diane Neal have previously guested along with many more! Plus, the two friends frequently take to the stage with live shows featuring a PowerPoint, games and lots of laughs. Go to http://thatsmesseduplive.com or check their Instagram @thatsmesseduppod to check tour dates and get episode homework!
That's Messed Up: An SVU Podcast is part of the Exactly Right podcast network that provides a platform for bold, creative voices to bring to life provocative, entertaining and relatable stories for audiences everywhere. The Exactly Right roster of podcasts covers a variety of topics including true crime, comedic interviews and news, science, pop culture and more. Podcasts on the network include My Favorite Murder with Karen Kilgariff and Georgia Hardstark, I Said No Gifts!, This Podcast Will Kill You, Bananas and more.