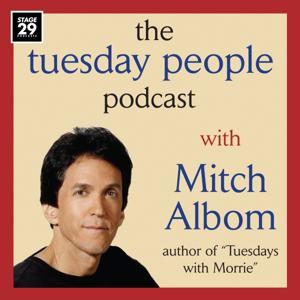 Tuesday People
By Mitch Albom
What's Tuesday People about?
Host Mitch Albom, author of the worldwide No. 1 bestseller Tuesdays With Morrie, explores the themes he and his old professor spoke about as Morrie was leaving the world, and how they relate to leading a better life. An interactive show with listener and occasional guest participation, "Tuesday People" is a community interested in knowing what matters in life, keeping that in perspective, and applying it to make our days happier and more fulfilling.
Bestselling author Mitch Albom will be joined by producer and on-air co-host, Lisa Goich. An award-winning author, copywriter, major market talk radio host, blogger, and former stand-up comedian, Lisa has worked with Mitch for nearly three decades on his radio shows. She continues this longstanding relationship with Tuesday People, lending an ear, voice, and helping hand to this community-driven podcast. Together, they'll explore the lasting lessons from the book that became an international phenomenon, and most importantly, share your stories on the show.