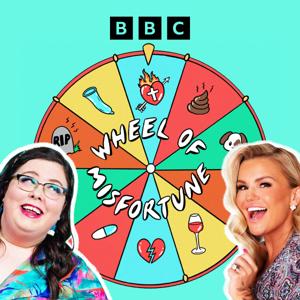 Wheel of Misfortune
By BBC Radio 5 live
What's Wheel of Misfortune about?
Alison Spittle, co-hosts Kerry Katona and Fern Brady and listeners share their funniest, most embarrassing stories - the bad stuff that makes you feel good. All episodes available now! Featuring burning shame from a whole host of celebrity guests and comedians, and former co-host Fern Brady. Producer: Beth O'Dea
Artwork: Sophie Rose Brampton
Social media: Harry Robinson Commissioning Assistant Producer: Adam Eland
Commissioning Producer: Natasha Johansson
Commissioning Executive: Dylan Haskins Wheel of Misfortune is a BBC Audio Bristol Production for BBC Sounds.