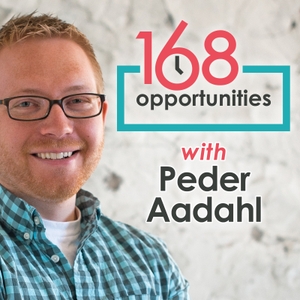 168 Opportunities with Peder Aadahl | Productivity | Self-Improvement | Online Marketing
By Peder Aadahl - Digital Marketing Strategist
What's 168 Opportunities with Peder Aadahl | Productivity | Self-Improvement | Online Marketing about?
Do you feel like you week goes by and you are wondering what you actually accomplished?
Do you feel like you struggle finding time to work on the things you want to do?
Do you wish you could have systems in place that make your life and business more efficient?
168 Opportunities is about maximizing the time that you have every week. It doesn't matter who you are, we all have the same amount of time every week, 168 hours.
So the question is, what are you doing with that time?
This podcast is all about helping you maximize that time, accomplish the work you want to get done, all while having a life in the process.