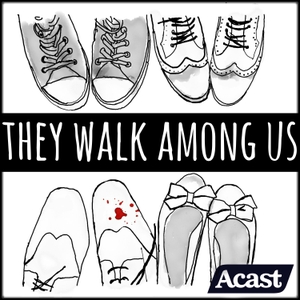 PLEASE LISTEN TO A CONFESSION (Part 1 of 2) FOR PART ONE OF THIS TWO-PART CASE. 
On March 24, 2011, Christopher Halliwell was arrested in connection with the suspected kidnapping of Sian O'Callaghan. Halliwell subsequently admitted to the murder, leading police to not only Sian's body but the remains of another victim.
After DNA testing police identified the woman to be Swindon native, Rebecca Godden-Edwards. During October 2012, Halliwell was sentenced to a minimum of 25 years for Sian's murder, but a judge ruled that evidence gathered during the day of Halliwell's arrest was inadmissible. He couldn't be charged for the killing of Rebecca Godden-Edwards — despite him leading police to her remains. But Why? (Part 2 of 2).
This episode is brought to you in association of with ITV's new true-crime drama 'A CONFESSION' from Oscar nominated and BAFTA winning writer Jeff Pope. Watch 6 part drama, A CONFESSION, starting Monday, September 2nd at 9 pm on ITV.
*** LISTENER CAUTION IS ADVISED AS THIS EPISODE CONTAINS ADULT THEMES AND DESCRIPTIONS THAT SOME LISTENERS MAY FIND DISTRESSING *** 
More information and episode references can be found on our website at http://theywalkamonguspodcast.com 
Become a 'Patreon Producer' and get early ad-free access to episodes and your name in the podcasts credits! Find out more here: https://www.patreon.com/TheyWalkAmongUs 
MUSIC: 
A Great Darkness Approaches Can You Feel It by ELPHNT
Deep Space by Audionautix
Beyond the Lows by The Whole Other
Land on the Golden Gate by Chris Zabriskie
Meadow by Density & Time
Dreamer by DivKid
The Dark Glow of the Mountains by Chris Zabriskie
Retro Dreamscape by Twin Musicom
There's Probably No Time by Chris Zabriskie
I Am a Man Who Will Fight for Your Honor by Chris Zabriskie
Echoes of Time by Kevin MacLeod
Subterranean Howl by ELPHNT
Leoforos Alexandras by Dan Bodan
Cavern by HOVATOFF
There Are Many Different Kinds of Love by Chris Zabriskie
Peace by HOVATOFF
All music used under an Attribution License - http://creativecommons.org/licenses/by/4.0/
YOU CAN FOLLOW US ON SOCIAL MEDIA: 
Twitter - https://twitter.com/TWAU_Podcast
Facebook - https://www.facebook.com/theywalkamonguspodcast/ 
Instagram - https://www.instagram.com/theywalkamonguspodcast/ 
Acast - https://www.acast.com/theywalkamongus  For information regarding your data privacy, visit acast.com/privacy