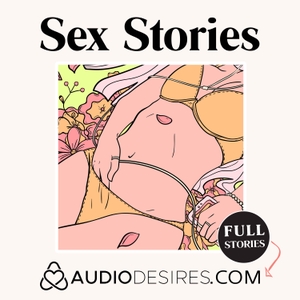 Listen to the full story: https://audiodesires.com/story/lesson-in-pleasure/
In this Audio Sex story, Riley and Jade spice things up after being together for nearly 6 years. Riley has always had a fantasy of being dominated in bed. With a little courage (and the help of some new sex toys), Riley shares her BDSM fantasy with her lover and teaches Jade how to give a lesson in pleasure. Explore the exciting beginning stages of a BDSM romance in this steamy lesbian sex story.
Finally, my shift is over. Man, the café was so busy today. Oooh, a text from my love. I wonder what you've been up to on your day off. "Hope you're having a great day. Could you pick some things up on your way home from work?" What…? What is this? I was expecting you to have sent me a grocery list along with your message, but instead, you've sent me a list of sex toys. I'm not sure if any grocery stores around here carry wrist cuffs, bondage tape, or ball-gags. You must be messing around with me. Unless…we have been talking about ways to spice things up in the bedroom lately. After six years together, we still love having sex, but a little shake-up in our routine would be nice. I wonder…have you been harboring a secret BDSM fantasy? Have you been fantasizing about being dominated or something? Maybe you were too nervous to tell me face-to-face. Well, I've got no problem whatsoever tying you up and teaching you a lesson or two. In fact, that sounds really fucking hot.