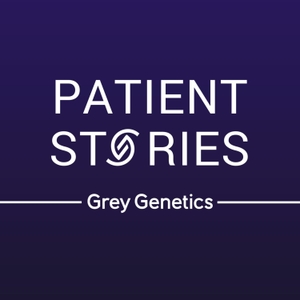 Shannon's son James was a little slower than most babies to meet his developmental milestones, but it wasn't until after he had his first seizures that he was finally diagnosed with Tay-Sachs, a rare, inherited, autosomal recessive condition that progressively destroys nerve cells in the brain and spinal cord. Shannon and her husband had a total of just 27 months with James. Shannon shares how after receiving the diagnosis, she learned to live in the moment and appreciate the time she had with him. Her experience has also made her an advocate for offering patients expanded carrier screening—ideally before pregnancy!
Leave us a short voice message about your experience or thoughts on the episode here! We may use your message on a future show.
Links and Resources
National Tay Sachs and Allied Diseases Association
Cure Tay-Sachs Foundation
Connect with Shannon on Instagram: @shannonmiller9
Book recommendation: It's OK that you're not OK: Meeting Grief and Loss in a Culture That Doesn't Understand, by Megan Devine
More from parents of children with Tay Sachs
Carla Steckman's Blog
Interview with Carla on the Call Your Mother podcast: "A Mother, Not a Hero"
Three Short Years: Life Lessons in the Death of My Child, by Becky Benson
The Still Point of the Turning World, by Emily Rapp
Are you pregnant or planning a pregnancy and wanting to speak with a genetic counselor?
Patient Stories is sponsored by Grey Genetics, an independent telehealth genetic counseling and consulting company. You can browse our Network of genetic counselors or go straight to our scheduling page to book an appointment. All genetic counseling appointments take place over secure, HIPAA-compliant video-conferencing or by phone.
More resources from Grey Genetics
Grey Genetics News Corner blog post: Expanded Carrier Screening & Frequently Asked Questions
Prenatal Genetics Resources Page
Check out other Patient Stories podcast episodes.
Read other Patient Stories on the Grey Genetics Patient Stories Page
Do you want to support Patient Stories?
You can now make a donation online!
Want to support Patient Stories in a non-monetary way? Leave us a review on iTunes, or share your favorite episodes on Social Media.
Patient Stories on Twitter: @GreyGeneticsPod
Patient Stories on Instagram: @patientstoriespodcast
Patient Stories is sponsored by Grey Genetics, an independent telehealth genetic counseling and consulting company. Schedule a genetic counseling appointment with a genetic counselor specialized in your area of concern.