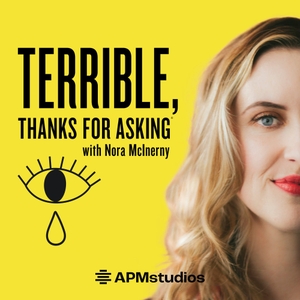 There are (many) crossroads in a relationship, but Mark is at a big one: his girlfriend Melissa wants kids, and he doesn't. In part 1 of this story, we explore how a difficult choice becomes a simple one, and what it means to embrace life in the face of loss.
Our twice-monthly newsletter features behind-the-scenes content, previews of upcoming episodes and more. Sign up.
When you shop our Bookshop.org store, you support the author, independent bookstores AND our show! Shop here.
Shop for your favorite TTFA gear at TTFAmerch.com
Read the transcript for this episode here.
You can catch up with TTFA on Instagram, Twitter and Facebook using @ttfapodcast. Nora's Instagram is @noraborealis.
TTFA is public media. Which means we are supported by you. You can join us with a contribution at ttfa.org/donate
And check out our sponsors this week:
Calm: calm.com/thanks
Yarlap: yarlap.com with code TTFA
Brooklinen: brooklinen.com with code TERRIBLE
Sun Basket: sunbasket.com/thanks with code THANKS