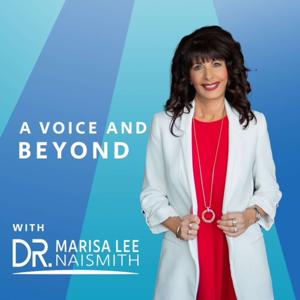 #13. A Voice for Social Justice with Dr Elizabeth Benson
05.30.2021 - By A Voice and Beyond
Today's guest is Dr Elizabeth Benson.
Elizabeth offers us a rare insight into her professional career highlights as a singer who performed across multi genres from classical art song to musical theatre and pop/rock. She describes the training regime that helped her manage the vocal demands of each style, how she built vocal stamina and created the requisite style elements across the spectrum of sounds. Elizabeth discusses the training program at Auburn University and how this boutique program is designed to ensure that students are offered every opportunity for success by not only learning the practical skills required to be a triple threat in the industry, but also how they can build other necessary skills such as resilience. Elizabeth shares her core values, inspiration for her book, and her personal mission now is for social justice and reform in the voice community in areas such as gender equality, equity, diversity, inclusion and belonging. There is so much more in this episode and I am sure you are going to love it! Contact Dr Elizabeth Benson
Purchase Dr Elizabth Benson's Book
In this episode: 01:08 - Introducing Dr Elizabeth Benson 04:47 - Dealing with the pandemic 09:04 - Elizabeth's early singing days 12:42 - Performing at Carnegie Hall 15:54 - Writing a cabaret  20:32 - Transitioning to voice teaching 25:25 - Auburn University programs 32:54 - Covid's impact on current students 37:33 - Dr Elizabeths new book 45:00 - The belting chapter 48:42 - Resources within the book 49:39 - What's next for Dr Elizabeth 55:46 - Equity, diversity, inclusion and belonging
For more go to https://drmarisaleenaismith.com/13
Like this episode? Please leave a review here - even one sentence helps!
Follow me on Instagram.