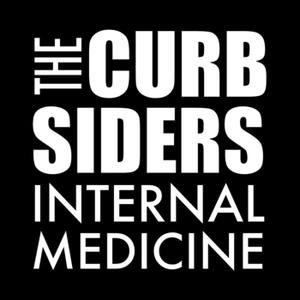 Let's recap our favorite addiction medicine pearls!  We cover the treatment of alcohol use disorder, opioid use disorder and discuss strategies surrounding the management of long-term opioid therapy.  Please share your favorite addiction medicine pearls with us that we may have forgotten in the comments or by tagging us on Twitter @thecurbsiders. 
Episodes | Subscribe | Spotify | Swag! | Top Picks | Mailing List | [email protected] | Free CME!
Credits
Producers: Carolyn Chan MD; Nora Taranto MD
Infographics: Hannah R Abrams; Justin Berk MD, MPH, MBA; Carolyn Chan MD; Nora Taranto MD
Writer and Cover Art: Carolyn Chan, MD
Hosts: Carolyn Chan MD; Stuart Brigham MD; Matthew Watto MD, FACP; Paul Williams MD, FACP   
Editor: Justin Berk MD (written materials); Clair Morgan of nodderly.com
Sponsor: Panacea Financial
This episode is supported by Panacea Financial, digital banking built for doctors, by doctors. At Panacea Financial, you can have your own free personal banker and a support team that works around the clock- just like you do. Open your free checking account today at panaceafinancial.com
Panacea is also excited to announce their "Match Day Giveaway." $500 will be awarded to five medical students entering the match in 2021. Entry is free, and students can enter the giveaway on their website until March 31, 2021. Winners will be selected randomly on April 1st,
 2021. No purchase necessary for entry. Go to panaceafinancial.com/matchday today to learn more.
Panacea Financial, a Division of Sonabank, Member FDIC
Partner: The Cribsiders Pediatric Medicine Podcast
A Pediatric Podcast here to feed pediatric knowledge food to your adult-sized brain hole & provide weight-based dosings of fun. New episodes drop every other Wednesday! https://thecribsiders.com/ 
CME Partner: VCU Health CE
The Curbsiders partner with VCU Health Continuing Education to offer FREE continuing education credits for physicians and other healthcare professionals. Visit curbsiders.vcuhealth.org to claim credit.
Time Stamps
Intro, disclaimer 00:00
Alcohol Use disorder (inpatient and outpatient management) 03:50 
Sponsor -Panacea Finanicial 24:00
Partner -The Cribsiders Pediatric Medicine Podcast
Chronic Pain and  Opioid Therapy (prescribing buprenorphine; microdosing) 25:30
Benzo Tapers 46:11
Outro