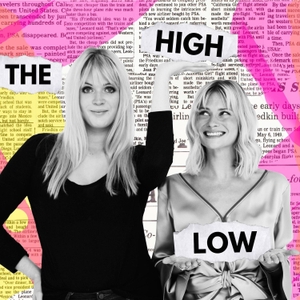 We discuss online vs offline behaviour, when it comes to social change; and why historical progress has long relied on the removal of monuments. Also today, tons of podcast recommendations, an homage to Gogglebox and the size 75 shoes made especially for social distancing.
E-mail [email protected]
Tweet @thehighlowshow
Links
Social media
@multiculturalkidsbooks on IG
@diverse_kids_books on IG
@novelallure on IG
Reading
Knights Of bookshop http://knightsof.media
Anti-Racist Baby, by Ibram X. Kendi
Little Leaders: Bold Women In Black History
Superior by Angela Saini
Stolen Legacy by George James
The Fire Next Time by James Baldwin
You're Silence Will Not Protect you by Audre Lorde
Here For It by R. Eric Thomas
Candice Brathwaite interview by Johanna Thomas-Corr for Observer https://bit.ly/37hGPKa
Bernadine Evaristo on inclusive publishing for British Vogue https://bit.ly/2XOoaCX
Yomi Adegoke on the "pics or it didn't happen approach" for British Vogue https://bit.ly/2znzRac
8 Books by Black authors that aren't about Black pain by Natalie Morris for Metro https://bit.ly/2MLU8Ju
Fighting racism requires more than hashtags by Nesrine Malik for The Guardian https://bit.ly/2BTpoUT
Why You Should Say Black Lives Matter by Bob and Peppermint https://bit.ly/2Ur97g3
The Resilience of Marga Griesbach by Rebecca Traister for New York mag https://bit.ly/3dKzKnY
Watching & Listening
Sabrina Cohen-Hatton on Rangan Chatterjee's podcast, Feel Better, Live More
Ibram X Kendi interview with Brene Brown for Unlocking Us
Celebrity Gogglebox
Days of the Bagnold Summer
Douglas by Hannah Gadsby on Netflix
Fresh Air: Hannah Gadsby
The C Word: Paula Yates
Jay Rayner's Out To Lunch 
Desert Island Discs: Professor Dame Elizabeth Anionwu
Grounded with Louis Theroux: Miriam Margolyes 
Nick Cave: The Red Hand Files 
Petitions 
Healthcare for black women in the U.K. https://petition.parliament.uk/petitions/301079
Paul Stephenson statue https://www.change.org/p/bristol-city-council-replace-the-colston-statue-with-paul-stephenson
Donate to Black Minds Matter https://uk.gofundme.com/f/black-minds-matter-uk
 See acast.com/privacy for privacy and opt-out information.