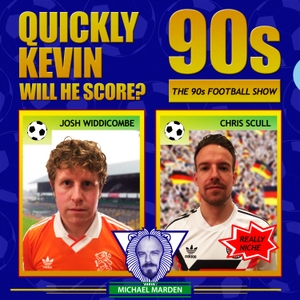 To live in the UK in the 90s was to ride the wave of Cool Britannia, as a newfound sense of pride and optimism swept across the nation. The soundtrack was Blur, Oasis and Three Lions; the football was King Kev at Newcastle, Euro 96 and a dominant United; and the politics were New Labour.
It's our pleasure to welcome to 'Quickly Kevin, will he score?' to talk Burnley and the relationship between football and politics – writer, broadcaster and former Downing Street Press Secretary - but most importantly, Burnley fan, Alastair Campbell.
Twitter: @quicklykevin
Facebook: quicklykevin
Instagram: quicklykevin
Email: [email protected]
For your chance to win an exclusive 'Graham Says: Hit Les' Quickly Kevin mug leave us a 90's Football based 'Review Haiku' on iTunes!!
Thanks,
Chris, Josh and Michael.
 See acast.com/privacy for privacy and opt-out information.