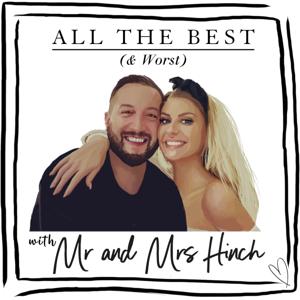 All The Best (& Worst) with Mr and Mrs Hinch
By Global
What's All The Best (& Worst) with Mr and Mrs Hinch about?
Join Sophie and Jamie as they give exclusive access behind the doors of Hinch House!
You'll hear all the juicy bits that don't make it to instagram, as they talk through everything from the first day they met through to getting married and having a baby.
The pair aren't pulling any punches as they talk openly about their struggles including mental health, becoming parents and juggling a demanding work/life balance.
Ever wondered why Sophie started cleaning in the first place? Or what Jamie thought of Sophie when their eyes first met? Or the most inappropriate things sophie has ever been sent to her insta account?
Answers to these questions and many more in this exclusive podcast series with Mr. & Mrs.Hinch.
Thank you to our sponsor, Peanut. Peanut is an app connecting women throughout all stages of motherhood. Whether you're a mother, pregnant, or trying to conceive, the app provides access to a community who are there to listen, share information and offer valuable advice. To download the app for free, head to peanut.app.link/hinch
You can get in touch with with sophie and jamie on instagram:
@mrshinchhome
@mrhinchhome