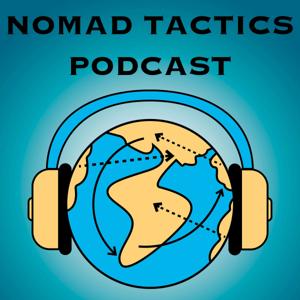 In this episode B and Jack talk about the best way to go about living a digital nomad life. In order to do so, they introduce their magnum opus Digital Nomad Life System. This is the system created by Nomad Tactics that aims to explain, step-by-step, how someone can go from living a non-nomadic normal life to living an optimized digital nomad life. Timestamps:
1. An overview of the Digital Nomad Life System [2:22]
2. Nomadic Life Prep [6:08]
3. Base Pre-Planning [10:46]
4. Base Research and Arrangements [13:07]
5. Arriving Process [16:24]
6. Nomadic Living [18:41]
7. Departing Process [21:24] Show summary, resources, and transcript: nomadtactics.com/002
Follow us on social media: nomadtactics.com/social
For Airbnb Negotiation Script: https://nomadtactics.com/airbnb-script/ Disclaimer: Please be aware that any information you may find in Nomad Tactics may be inaccurate, misleading, dangerous, addictive, unethical, or illegal. All the information available in Nomad Tactics is for information purposes only. If you decide to apply any of the information provided on this website, directly or indirectly, be aware that you are using it at your own risk.