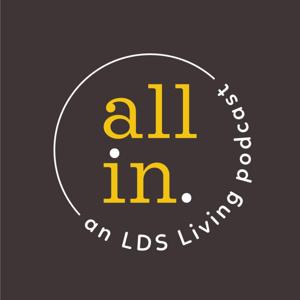 Andrea Hales: Gathering Tribes
11.10.2021 - By All In
Andrea Hales felt inadequate to the task but she couldn't deny the prompting she was feeling to start a podcast. The podcast would tell the stories of Native American Latter-day Saints and provide a platform to share their testimonies as members of The Church of Jesus Christ of Latter-day Saints. Hales knew she didn't grow up close to her Navajo side of the family but she felt her heart turning to her fathers and, as a result, a podcast called "Tribe of Testimonies" was born. 
"It's not me, it's definitely the Lord."
Show Notes
2:44- Native American Heritage
5:16- Indian Placement Program
8:53- A Part of the Book of Mormon Story
10:28- Tribe of Testimonies and Tribes in General
16:00- Hearing Him
21:08- Lessons Learned
24:40- Gathering Israel
29:10- The Lord's Preparations
31:45- Growing Into Identity
34:27- What Does It Mean To Be All In the Gospel of Jesus Christ?
Find the full episode transcript at ldsliving.com/allin.
See omnystudio.com/listener for privacy information.