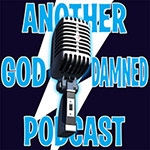 A listener has posed the question: "How come you guys don't believe in any gods?" The Herd discusses whether or not to respond. SI gets called to the phone.
Is America a Christian nation? Most of us think not. We also discuss whether America might be a Jewish nation, or a Muslim nation, or a Wiccan nation. Nope, none of those, either.
Ex is pissed off that atheists seem to have chosen red as their color; he thinks it makes us look too "gullible." Philly explains the color wheel. We all weigh in on our favorite colors, then discuss songs with colors in their titles. Evo sings his rendition of "Red Roses for a Blue Lady." And OG gives an amazing performance of "Purple Haze" - on the accordion!