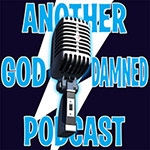 Ex surprises The Herd by asking if we're happy. Find out exactly why Chappy is. What do we make of various studies "showing" a greater happiness for woo-ists than others? The first one we look at claims higher levels of mental disorder for women who have eased up on their lifelong religious practice. Is there gender stereotyping involved? How much of church-going is about socializing? Oh, and Philly: We love you man!
Another study. Is it science? And, more importantly, what does it prove? Philly knows lots of things besides religion that make people "happy." Evo wonders if Christians are like people with mental handicaps. We briefly pay homage to various cheery animals. Chappy, quoting Paul, tells us why slaves might be happy. But what about us atheists? Does skepticism make people somewhat uncomfortable?
Is OG floating in limbo, or does she have a purpose driven life? What's the 4-Point Plan for Happiness - and why is it brought to us by a scientist? Are any of our brave listeners willing to volunteer to be part of SI's social network?
OG practically steps on other members of The Herd in her excitement to answer a question: Did she ever get self-esteem from god? Ummmm ... does anyone? In any religion? Philly thinks "meaning" a meaningless word. Which brings us to: Would atheist weddings and baby-naming ceremonies make us happy? Not Ex - until SI ropes him back into the Herd.
No, it's not poetry; it's the puzzler, huh? We announce Another Goddamned Correct Solution, but not from a listener. The Herd and our audience, champions of free speech, nevertheless do find some books offensive! Which ones? Hint: Voters loved Johnny Evo but hated Dinesh D'Souza. Speaking of Evo, he clears up some fuck-ups from the past, and then goes on to award two of our listeners for getting last weeks' science quiz right.