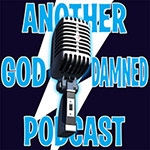 It's ALIVE! The Chambersburg billboard, that is. Has the issue now evolved into one of "hate speech"? How can free-thinkers respond? Does the new sign subliminally accuse atheists of racial hatred?
Ex (pissed off yet again) points out how Senator Clinton's desperate campaign is also making racial insinuations. All of us are disgusted! And why the hell is she missing key Senate votes that most progressives believe are critical to protecting our Constitutional rights? Is it OK for someone who is supposed to be one of the "leaders" of the party to be off on the campaign trail at times like this? And why aren't more Democrats pissed off about granting immunity to telecom companies for cooperating in illegal warrantless wiretapping?
Not that we have grandiose ideas or anything. But for Another Goddamned Podcast: The Movie, the members of the Herd become casting directors. We're looking for actors to play us and our fellow bloggers in the Atheosphere. YOU can be a casting director, too. Just leave your suggestions as a comment.