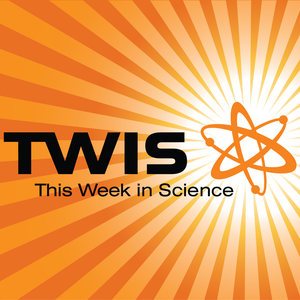 What is in the This Week in Science Podcast?
Making Chimeras, Bad Humans, Forgotten Coffee, Interview w/ Dr. Greg Gbur on Light and Invisibility, COVID Dogs, Beetle Pee, Snake Venom, Honey Fallout, Slow Rex, Glancing Gaze, Traveling Tarantulas, Shift Work Woes, And Much More…
Become a Patron!
Check out the full episode of our science podcast on YouTube. You can do that here.
And, remember that you can find us on all the podcast directories. If you are looking for science podcasts on Spotify, we are there! Science podcasts on Google? We are there! You're looking for science podcasts on iTunes, science podcasts on Apple? We are there, too! Just look for This Week in Science…
Disclaimer, Disclaimer, Disclaimer!!!
Nothing is in the way of the world
doing all the right things to prevent the climate emergency
that is looming over our planetary future like a dark…
foreshadowing…
cloud of…
dystopian gloom,
ready to burst with thunderous metaphors.
The sort of mechanisms used to alert a reader to the danger to come in a story.
Only this isn't fiction, and instead of literary props that hint at action ahead
We have scientific papers that spell out the threats,
the causes, the solutions, the consequences and outcomes in great detail…
If you watch the news these days, you won't hear anything about it.
The story has no arc, no reveal…
to ratings appeal.
It's just spoiler alert after spoiler alert…
Like a who done it, where the real killer is revealed on the first page.
A mystery twist movie
where the big secret is revealed in the trailer, and the title gives away the inevitable end.
And so, with nothing left to the imagination.
Nothing left to interest or entertain.