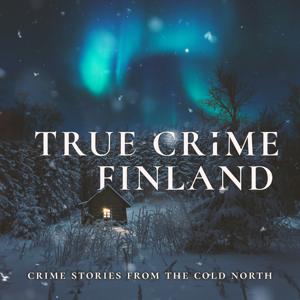 A respected journalist specialized in writing about social issues turns out to be a predator.
This episode details sexual violence and will not be suitable for all, please use your discretion. If you have been in a similar situation, help is available for you: in Finland, you can call Nollalinja at 080 005 005 or Naisten Linja at 0800 02400.
Thank you to Marko for the case request! If you have a case in mind you would like me to cover, please don't hesitate to reach out.
Huge thanks to Scott for upgrading their pledge on Patreon! On Patreon, you can donate as little as two dollars a month and in return, get exclusive access to ad-free episodes, scripts, bonus episodes on various topics and other nice rewards. Visit the page at https://www.patreon.com/truecrimefinland
Art is by Mark Pernia
Music is "Night" by VVSMUSIC
My art store: https://society6.com/minnanen
Podcast swag store: https://www.redbubble.com/people/tc-finland/shop?asc=u
Email: [email protected]
Website: https://truecrimefinland.squarespace.com  
Facebook group: https://www.facebook.com/groups/507039419636994/  
Twitter & Instagram: tc_finland
Are you interested in advertising on this podcast? Find out more at https://www.advertisecast.com/TrueCrimeFinland
Sources:
Helsingin Sanomat 18.11.1998: Nuorten pakkohaku vääristää https://www.hs.fi/mielipide/art-2000003759200.html
Helsingin Sanomat 7.11.2018: Päällekäyvänä "pokailijana" tunnettu mies raiskasi naisen ravintolaillan päätteeksi Espoossa – Lähes kahden vuoden tuomio https://www.hs.fi/kaupunki/art-2000005890982.html
Helsingin Sanomat 7.11.2018: Kaksi tuomiota seksuaalirikoksista samana päivänä: Toimittaja tuomittiin raiskauksesta, välttää kuitenkin vankilan https://www.hs.fi/kaupunki/art-2000005891396.html
Helsingin Sanomat 21.9.2012: Valtiollisesti palkittua universaalia kelailua https://www.hs.fi/radiotelevisio/art-2000002560602.html
Helsingin Sanomat 29.11.2018: Journalisti-lehti: Raiskauksesta tuomittu toimittaja on ahdistellut vuosien aikana useita naisia https://www.hs.fi/kotimaa/art-2000005915838.html
Image 4/2005: Orjamarkkinat https://www.apu.fi/artikkelit/orjamarkkinat
Iltalehti 7.11.2018: Palkittu toimittaja tuomittiin jo toisesta seksuaalirikoksesta samana päivänä – pyysi naisen asunnolleen nukkumaan, käytti hyväkseen ja haukkui: "Miten sä häivyt tolleen?" https://www.iltalehti.fi/kotimaa/a/d43a69b7-9604-42e2-bcdf-be248a9b549b
Ilta-Sanomat 30.11.2018: Naisten hyväksikäytöstä syytetty toimittaja kirjoitti vuonna 2004 kirjan, jossa on erikoisia yhtäläisyyksiä Journalisti-lehden paljastuksiin https://www.is.fi/kotimaa/art-2000005917414.html
Journalisti 30.11.2018: Synkkä salaisuus https://www.journalisti.fi/artikkelit/2018/14/synkk-salaisuus/
Long Play 29.11.2018: Jatkona Journalisti-lehden juttuun (Facebook post) https://www.facebook.com/notes/long-play/jatkona-journalisti-lehden-juttuun/2099901156741645/
Mediaviikko.fi 11.3.2006: Lumilapio-palkinto HS:n Tuomo Pietiläiselle ja Image-lehdelle https://web.archive.org/web/20140325160723/http:/mediaviikko.fi/kaikki/uutinen/lumilapio-palkinto-hsn-tuomo-pietilaiselle-ja-image-lehdelle.html