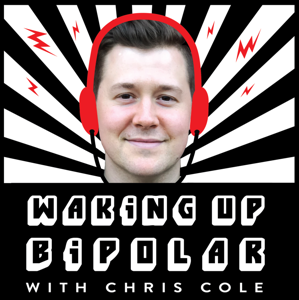 In this episode of Waking Up Bipolar, Chris Cole speaks with Aubrey Good—Program Coordinator for the International Bipolar Foundation. Aubrey was diagnosed with bipolar disorder at 18, and she hopes to use her experiences and knowledge to help bring awareness and education about bipolar disorder. Aubrey is particularly passionate about mental health reform in the criminal justice system and underserved communities. Her background in the United States military also motivates her to break down the stigma of mental illness and advocate for better care within the armed forces and veteran communities.
As you'll hear, Aubrey Good has a big heart for bipolar advocacy, as well as a great deal of compassion for the whole of humanity. She is #BIPOLARSTRONG, and I am stronger knowing she is doing good in this world of ours in need of so much goodness.  
Check out the International Bipolar Foundation at http://ibpf.org/ 
Submit your own #BIPOLARSTRONG videos and images here: http://www.ibpf.org/webform/world-bipolar-day
Follow the International Bipolar Foundation on Social Media:
Facebook: https://www.facebook.com/InternationalBipolarFoundation
Instagram: https://www.instagram.com/intlbipolar/
Twitter: https://twitter.com/IntlBipolar
JOIN THE DISCUSSION at https://www.facebook.com/groups/wakingupbipolar
Chris Cole hosts the Waking Up Bipolar podcast, focused on the intersection of bipolar disorder and spiritual awakening. He is the author of The Body of Chris: A Memoir of Obsession, Addiction, and Madness, inspired by his own journey of spiritual unfolding and mental health challenges. Chris Cole offers life coaching for any number of mental health conditions, specializing in bipolar disorder and spiritual emergence. Chris's experience with addiction, disordered eating, body dysmorphia, psychosis, and spiritual emergency allows him to relate to a wide range of clients. He utilizes a holistic approach to mental health which views wellness in physical, mental, emotional, social, and spiritual domains. Learn more about Chris and his work at colecoaching.com.
The Waking Up Bipolar podcast in now available on the following platforms:
Apple Podcasts | apple.wakingupbipolar.com
Google Play | google.wakingupbipolar.com
Stitcher | stitcher.wakingupbipolar.com
TuneIn | tunein.wakingupbipolar.com
wakingupbipolar.com