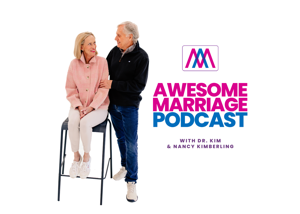 Awesome Marriage Podcast
By Dr. Kim Kimberling
What's Awesome Marriage Podcast about?
Awesome marriages don't happen on accident. Far too many couples are just surviving their marriage when it was meant to thrive. This is the place where we give you practical tips on how to build an awesome marriage. Our passion is to help you strengthen your marriage.
Dr. Kim Kimberling hosts the show. He is the President of Awesome Marriage he has been married for 52 years and has been a professional counselor for 40 years. He is the author of 7 Secrets to An Awesome Marriage and 14 Keys To Lasting Love.
Dr. Kim is joined by co-host Lindsay Few. Lindsay is the Content Director for Awesome Marriage. She has been married for 18 years. Her husband is a church planter, and they love ministering to married couples together.
Tune in each week to hear practical ways on how to have an awesome marriage!
This podcast is brought to you by the ministry of Awesome Marriage.