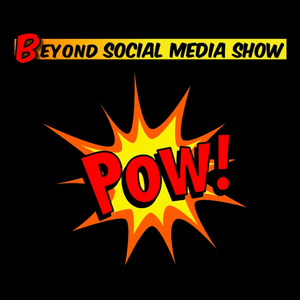 Beyond Social Media: The Marketing, Advertising & Public Relations Podcast
By Beyond Social Media
What's Beyond Social Media: The Marketing, Advertising & Public Relations Podcast about?
This is the audio version of the Beyond Social Media Show, a weekly video podcast broadcast live every Sunday at 5:00 PM CST/6:00 PM EST.
Co-Hosts B.L. Ochman and David Erickson address all aspects of content, social media, advertising, marketing, public relations and media in an irreverent, fast-paced style. The Beyond Social Media Show follows the following format:
* Worst marketing stories of the week
* Best marketing stories of the week
* Shiny new tools
* The Daily Numbers
Each episode is 20-30 minutes long. Audio and video of each episode is posted shortly after the live broadcast to the Beyond Social Media Show blog (http://BeyondSocialMediaShow.com/). along with links to all the stories, tools, and statistics we discuss.
Follow the show on social:
http://beyondsocialmediashow.com/connect
Subscribe to the show's eNewsletter:
http://beyondsocialmediashow.com/newsletter