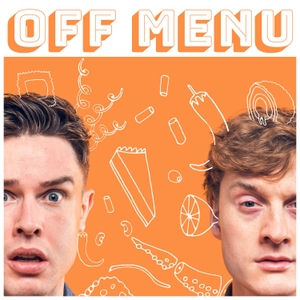 Grime artist and chef Big Zuu takes a trip around the globe to pick his dream menu. Is he having a nice time, or is that his fake laugh again?
The new series of 'Big Zuu's Big Eats' is on Dave starting Mon 7 Jun.
The 'Big Zuu's Big Eats' cookbook is published 3 Jun.
Recorded and edited by Ben Williams for Plosive.
Artwork by Paul Gilbey (photography and design) and Amy Browne (illustrations).
Follow Off Menu on Twitter and Instagram: @offmenuofficial.
And go to our website www.offmenupodcast.co.uk for a list of restaurants recommended on the show.
Watch Ed and James's YouTube series 'Just Puddings'. Watch here.
 See acast.com/privacy for privacy and opt-out information.