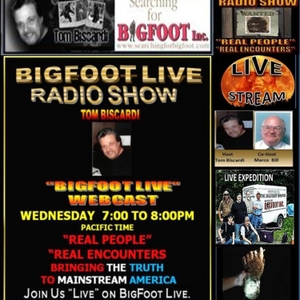 BIGFOOT LIVE RADIO 2016 ARCHIVES
By MarcoBill
What's BIGFOOT LIVE RADIO 2016 ARCHIVES about?
Fasten Your Seat belts America For a Ride on the Fast Track of Bigfoot Encounters!
Sit Back and Relax While We Bring you Reality Entertainment at it's Finest.
"Real People" with "Real Encounters".
Listen to "BIGFOOT LIVE RADIO" at www.bigfootliveradio.com Every Wednesday, from 7PM to 8PM Pacific Time.
Participate in live discussions with Guests that have experienced Big Foot Encounters and discuss them with the world-renowned Bigfoot researcher Tom Biscardi.
Host - Tom Biscardi and Co-Host Marco Bill bring Awareness to Mainstream America about an elusive creature known as Bigfoot.