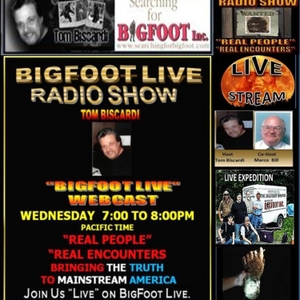 THE BIGFOOT LIVE RADIO SH0W-409 9 MAR 2016
THIS WEDNESDAY EVENING 7-8PM PACIFIC TIME THE BIGFOOT LIVE RADIO SHOW.
1. TOM DOES SHOUT OUTS TO OUR FRIENDS, EXTENDED FAMILY AND LISTENERS. TOM BRINGS US UP TO SPEED WITH CURRENT BIGFOOT EVENTS.
2. GUEST-1 TOM INTERVIEWS KUMIE, SARA, AND ROCKY WHO HAVE LOST WEIGHT ON THE NORCAL HEALTH SOLUTIONS AND DISCUSS RECENT PROGRESS.
3. TOM INTERVIEWS DOUG OF CALIFORNIA AND TALK ABOUT HIS ENCOUNTER WITH THE CREATURE WHILE GOLD MINING IN A CREEK BED.
4. TOM INTERVIEWS KELLY OF TEXAS AND TALK ABOUT RECENT EVENTS HE EXPERIENCED AND 18 INCH FOOT PRINTS HE TOOK PICTURES OF.
5. TOM INTERVIEWS JAVA BOB, ROCKY AND T.J. OF SFBI TEAM AND TALK ABOUT PAST EXPERIENCES AND ENCOUNTERS WITH THE CREATURE. FINAL COMMENTS THEN CLOSE SHOW.