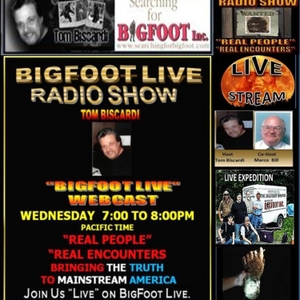 THE BIGFOOT LIVE RADIO SH0W-448 21 DEC 2016
THIS WEDNESDAY EVENING 7-8PM PACIFIC TIME
1.T.J. AND SFBI TEAM ARE BACK FROM EXPEDITION :
Expedition season is upon us again. Send us your sightings.
​Join Us -- Finding Bigfoot With The Searching For Bigfoot Team !
We Need Your Eyes and Ears.
Do you know of or have your heard of any Bigfoot Sightings, Activity, Evidence or Stories in these areas.
Please Call TJ, our Live Capture Team Leader At (606) 620 - 6667 for Texas to East Coast Info OR
Call Tom Biscardi, The Godfather of Bigfoot At (415) 518 - 8494 For Texas to West Coast Info
The Bigfoot Hot Line is available 24 Hours A Day!!!
MERRY CHRISTMAS EVERYONE!!!
​SHOW OUTLINE AND GUESTS:
1. MARCO BILL DOES SHOUT OUTS TO OUR FRIENDS, EXTENDED FAMILY AND LISTENERS.
2. MARCO BILL INTERVIEWS JANINE OF KANSAS TALKS ABOUT HER ENCOUNTER NEAR KERSBURG GERMANY WHEN SHE WAS A CHILD. SHE SAW AN 8FT CREATURE WALKING THROUGH THE WOODED AREAS.
3. MARCO BILL INTERVIEWS ANTHONY OF VA AND TALKS ABOUT RECENT EVENTS GOING ON IN HIS AREA.
4. MARCO BILL INTERVIEWS DAVE OF 4-CORNERS NM AND TALKS ABOUT RECENT ACTIVITY GOING ON IN HIS AREA.
5. MARCO BILL INTERVIEWS THERON OF THE CHOCTAW NATION IN MISSISSIPPI AND TALK ABOUT RECENT ACTIVITY GOING ON IN HIS AREA.
6. MARCO BILL INTERVIEWS ROCKY AND SWEDE OF ARKANSAS - WITH THIS EDITION OF FOOT NOTES: RECENT WINTER OUTING AND HOW THEY USE THE WINTER TO PLAN FOR THE SPRING AND SUMMER SEARCH AREAS.
7. MARCO BILL OPENS THE SHOW FOR ALL THE GUESTS TO ASK QUESTIONS AND INTERFACE WITH EACH OTHER. LAST REMARKS AND COMMENTS THEN CLOSE THE SHOW.
​MARCO BILL RE-ENFORCES THE CALL TO EVERYONE TO KEEP
THEIR EYES AND EARS OPEN AND REPORT ANY ENCOUNTERS OR ACTION
IN THEIR AREAS ON THE BIGFOOT HOT LINE.
MARCO BILL THEN CLOSES THE SHOW. FOR AN EXCITING EVENT
IN BIGFOOT HISTORY!
MARCO BILL