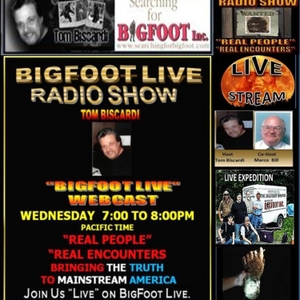 THE BIGFOOT LIVE RADIO SH0W-451 11 JAN 2017
THIS WEDNESDAY EVENING 7-8PM PACIFIC TIME
1.T.J. AND SFBI TEAM ARE BACK FROM EXPEDITION :
Expedition season is upon us again. Send us your sightings.
​Join Us -- Finding Bigfoot With The Searching For Bigfoot Team !
We Need Your Eyes and Ears.
Do you know of or have your heard of any Bigfoot Sightings, Activity, Evidence or Stories in these areas.
Please Call TJ, our Live Capture Team Leader At (606) 620 - 6667
The Bigfoot Hot Line is available 24 Hours A Day!!!
​SHOW OUTLINE AND GUESTS:
1. T.J. DOES SHOUT OUTS TO OUR FRIENDS, EXTENDED FAMILY
AND LISTENERS.

2.GUEST ONE-T J INTERVIEWS AUDREY FROM KY AND TALKS ABOUT
HER WEEKLY INTERFACE WITH THE CREATURES RIGHT OUTSIDE HER
HOUSE.
(15 MIN)

3. GUEST TWO- T.J.INTERVIEWS MICHAEL GREEN OF NC AND DISCUSSES HIS RECENT INVESTIGATION OF KEVIN IN NC.
(15MIN)

4. GUEST THREE- TJ INTERVIEWS DAVE ORTIZ OF 4-CORNERS NM AND DISCUSS ACTIVITY GOING ON IN HIS AREA.
(15MIN)
5.GUEST FIVE - TJ, AND ROCKY REVISIT SOME OF THEIR MOST MEMORABLE EXPERIENCES IN THE PAST TALK ABOUT WHAT TO LOOK FORWARD TO IN THE NEW YEAR.
(15MIN)
​MARCO BILL RE-ENFORCES THE CALL TO EVERYONE TO
KEEP THEIR EYES AND EARS OPEN AND REPORT ANY ENCOUNTERS OR ACTION IN THEIR AREAS ON THE BIGFOOT HOT
LINE.

MARCO BILL THEN CLOSES THE SHOW. FOR AN EXCITING EVENT IN BIGFOOT HISTORY!

MARCO BILL