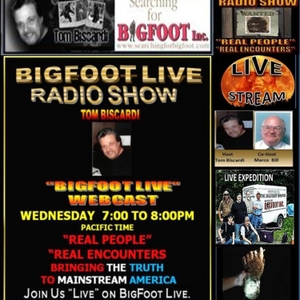 THE BIGFOOT LIVE RADIO SH0W-443 16 NOV 2016
THIS WEDNESDAY EVENING 7-8PM PACIFIC TIME
1.T.J. AND SFBI TEAM ARE BACK ON EXPEDITION :
Expedition season is upon us again. Send us your sightings.
​Join Us -- Finding Bigfoot With The Searching For Bigfoot Team !
We Need Your Eyes and Ears.
Do you know of or have your heard of any Bigfoot Sightings, Activity, Evidence or Stories in these areas.
Please Call TJ, our Live Capture Team Leader At (606) 620 - 6667 for Texas to East Coast Info OR
Call Tom Biscardi, The Godfather of Bigfoot At (415) 518 - 8494 For Texas to West Coast Info
The Bigfoot Hot Line is available 24 Hours A Day!!!
2. GUEST ONE, MARCO INTERVIEWS AUDREY FROM KY AND TALKS ABOUT
HER ENCOUNTERS THE PAST TWO WEEKS WITH THE CREATURE RIGHT
OUTSIDE HER HOUSE.
(15 MIN)
3. GUEST TWO, MARCO INTERVIEWS ,MARCOS FROM ARKANSAS AND TALKS ABOUT STRANGE
ACTIVITY GOING ON AND TALKS ABOUT HIS EXPERIENCE WITH ZEKE, T.J. AND THE TEAM DURING EXPEDITION.
(15 MIN)
4. GUEST THREE - MARCO INTERVIEWS MARK FROM ARKANSAS AND TALK
ABOUT HIS RECENT EXPERIENCE WITH THE CREATURE..
(15 MIN)
5. GUEST FOUR- ROCKY AND MARCO AND SFBI TEAM DISCUSS
CURRENT EXPEDITION RESULTS AND MORE EXPEDITION AND UPCOMING
EXPEDITION PREPARATIONS.
(15 MIN)
​
MARCO BILL RE-ENFORCES THE CALL TO EVERYONE TO KEEP THEIR
EYES AND EARS OPEN AND REPORT ANY ENCOUNTERS OR ACTION IN
THEIR AREAS ON THE BIGFOOT HOT LINE.
MARCO BILL THEN CLOSES THE SHOW. FOR AN EXCITING EVENT IN
BIGFOOT HISTORY!
​.
MARCO BILL