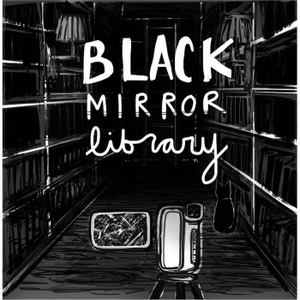 "It is a dimension as vast as space and as timeless as infinity. This is the dimension of imagination. It is an area which we call the Black Mirror Library"
Welcome visitors to the Black Mirror Library! This is your invitation to join our Black Mirror Book Club. Join Cate and Shellie as they explore each episode of the haunting sci-fi show Black Mirror followed by a "book club" episode where we read/watch related books/films to discuss. Check out our syllabus for a list of Season One reading/viewing.
Today we share the origin story of our podcast, our own personal connections to the sci-fi genre, and what you can expect from this alternate dimension you have entered. As we move into examining each episode of Black Mirror, we set the stage in this introduction episode with a discussion of Utopia is Creepy and Other Provocations by Nicholas Carr.
So meet us in the Black Mirror Library every other (most of the time) Monday. We will be here. Waiting.
Essays Discussed:
Twitter Dot Dash (pg 34)http://www.roughtype.com/?p=1251
Should the Net Forget? (pg 47)http://www.roughtype.com/?p=1251
Resurrection/The Avatar of My Father (pg 69)http://www.roughtype.com/?p=1224
The online blog posts varies slightly from the version published in the book
Utopia is Creepy (pg 108)http://www.roughtype.com/?p=1550