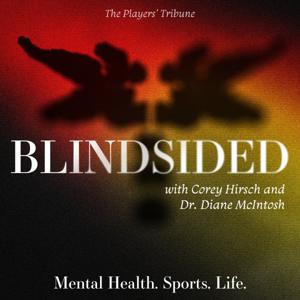 Blindsided
By The Players' Tribune
What's Blindsided about?
Plan your work and work your plan. For many athletes, words like these are scripture — permanent signposts lining the long road to success. The very act of pursuing a career in sports often gives a sense of control, a sense of safety. Just stick to the plan. Good things will follow.
That is, until life happens. The kind of life that happens while you're making other plans. Devastating setbacks. Dark thoughts. Debilitating breakdowns. Mental health conditions that force an athlete to ditch their well laid plans and ask, "What's my next play?"
Hosted by former National Hockey League goaltender Corey Hirsch and psychiatrist Dr. Diane McIntosh, Blindsided allows professional athletes to open up about mental health. The podcast lets listeners hear moments when mental health became the athlete's most important focus.
Blindsided then dives in deeper. It gets clinical. And it allows listeners to leave with a deeper understanding of mental health conditions that all people face. It then shows how athletes, in particular, face them down.
Welcome to Blindsided. Mental health. Sports. Life.