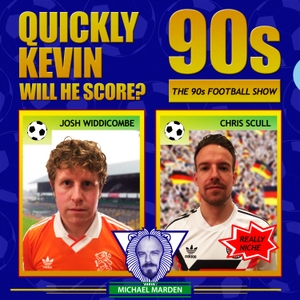 We're back!! Series 4 comes crashing into your ear holes like a Kevin Pressman penalty.
This week we're delighted to welcome the man, the myth, the legend, Mr Bobby Gould into the Quickly Kevin studio to discuss Wimbledon's famous FA Cup victory over Liverpool his tenure as Wales manager, training in prisons and so much more...
Elsewhere we go even deeper into the Bull Boyz trainer saga, and reveal the (not) greatest team of the 90's. We suggested the players. You voted. We're all to blame.
Book the last remaining tickets for the live shows on 7th and 8th November here;
https://hackneyempire.co.uk/whats-on/quickly-kevin90-will-he-score-live/?action=book
Twitter: @quicklykevin
Facebook: quicklykevin
Instagram: quicklykevin
Email: [email protected]
For your chance to win an exclusive 'Graham Says: Hit Les' Quickly Kevin mug leave us a 90's Football based 'Review Haiku' on iTunes!!
Thanks,
Chris, Josh and Michael.
 See acast.com/privacy for privacy and opt-out information.