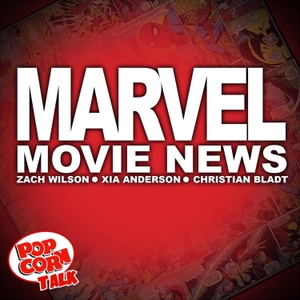 Breaking Down The SDCC Phase 4 Announcements! - MMN #239!
07.26.2019 - By Marvel Movie News
Is your brain been able to process everything that was revealed at San Diego Comic Con? We've got details on TEN new Marvel Studios projects. Join Marvel Movie News to discuss (deep breath): Black Widow, Falcon & the Winter Soldier, Eternals, Shang-Chi and the Legend of the Ten Rings, WandaVision, Doctor Strange and the Multiverse of Madness, Loki, What If, Hawkeye, and Thor: Love & Thunder. Get ready for Phase 4 with Zach Wilson, Christian Bladt, and Xia Anderson as they break down all that and more on this week's Marvel Movie News!
Follow Zach Wilson on Twitter!
@ThatZachWilson
Follow Xia Anderson on Twitter!
@Xia_Land
Follow Christian Bladt on Twitter!
@ChristianDMZ
---
This episode is sponsored by
· Anchor: The easiest way to make a podcast. https://anchor.fm/app
Support this podcast: https://anchor.fm/marvelmovienews/support