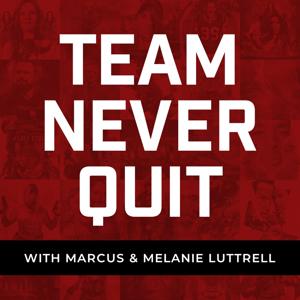 Brian Tally: Former Sergeant in the United States Marine Corps, National Veteran Advocate, Creator of The Tally Bill
05.18.2022 - By Team Never Quit
A man on a mission. That is this week's Team Never Quit guest, Marine veteran Brian Tally. What started out as sudden, severe back pain quickly became an incredible life-threatening ordeal he endured for years after a bad diagnosis at a VA hospital emergency room. His spine was being eaten alive by what turned out to be a tissue-eating staph infection. Because of a law enacted in 1946, Brian was unable to sue for malpractice as the law did not allow independent contractors at the VA facility to be sued. But by the time the VA suggested he pursue legal action in a state court, the state's statute of limitations had just expired. What to do? If you're Brian Tally - with no legal background - you draft your own legislative bill and go door-to-door on Capitol Hill until the procedural loophole is closed, ensuring that VA is transparent and fully accountable.
https://www.congress.gov/bill/116th-congress/house-bill/4526
 In this episode you will hear:
It was a cold, gloomy morning when I couldn't get out of bed, in severe pain – pain I can't describe - after feeling normal when I went to bed.
I'm not anti-VA but I was one of those veterans that slipped through the cracks.
The only time I ever saw a doctor was when I was laying open on an operating table four months later, and they found a surprise – my spine was oozing with inflammation.
I was so doped up and in so much pain, I didn't even know what was going on. I spent four months in my chair. I became an absolute broken man.
The doctor told my wife. "Your husband's spine looks like it's been moth-eaten."
I was being eaten alive for four straight months, before finally having life-saving surgery.
By then my physical, mental, and emotional health was gone.
I have never slandered anyone. I have only operated in an honorable way. I would never dishonorably yell someone's name. Because we all make mistakes.
I had to operate in a different way than I was being treated.
Just when I thought they would do the right thing, the VA did an about face, and they left me and my family holding the bag.
My wife is the glue that holds everything together.
There are tens of thousands of veterans, who have been destroyed by this egregious practice from a 1946 law.
The VA is using more and more independent contractors to see their way out of malpractice cases.
I went to my bathtub and I knelt down and said "God I'm about to expose made men, and I'm gonna need You for the strength and endurance to draft my own bill – my own solution. I was in a place I knew nothing about.
The never quit mentality is what kept me going.
I was representing 20.2 million American veterans with my bill.
That's what God has led me to be and to do. 
You can engage congress and make a difference.
I know I'm where God wants me to be.