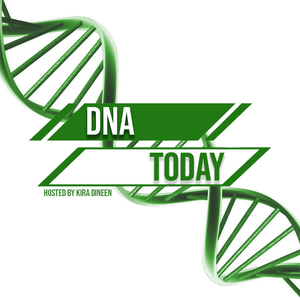 Brianne Kirkpatrick returns on the program, she was previously on episode 56 back in 2016 where we discussed ancestry genetic testing. This episode we talk about Brianne's new book "The DNA Guide for Adoptees: How to use genealogy and genetics to uncover your roots, connect with your biological family, and better understand your medical history". Upon release, her book was the #1 new release in the genetics category on Amazon. The book covers a lot information and is divided into four sections: Getting Started, Bringing Science and Research Together through Genetic Genealogy, What to Do After the DNA Testing is Done, and DNA Tests and the Search for Health Information.
Brianne Kirkpatrick is a licensed and certified genetic counselor with over 13 years of experience. She is a member of the National Society of Genetic Counselors, International Society of Genetic Genealogy, and the National Genealogical Society. Brianne has her own private practice, Watershed DNA, where she offers clients her expertise in medical genetics and counseling to provide support and information to those seeking DNA testing for genealogy and health purposes. Previously, Brianne held a position at the Genome Medical network. Brianne received her Bachelor's in Biology and Religious Studies at Indiana University followed by a Master's in Genetic Counseling at Northwestern University.
On This Episode We Discuss:
Services WatershedDNA Offers
Motivation Behind Writing "The DNA Guide for Adoptees"
Differences in Genealogical Research for Adoptees Compared to General Population
Preparing to Meet New Biological Family Members
Advice for DNA Testing Adoptee Related Searches
DNA Testing for Children/Minors to Find Biological Relatives
Insight for Adoptee's Seeking Medical Information via DNA Testing
Non-DNA Methods to Search for Lost Biological Relatives
My Heritage's DNA Quest Project for Adoptees
Since recording this project has expanded to offer more free kits!
Listen to episode #80 with My Heritage's Rafi Mendelsohn to learn more.
Resources for the Adoptee/Donor Community
Facebook Groups: DNA Detectives and Adoption Search and Reunion
AdopteeRightsLaw.com
Learn more from Brianne Kirkpatrick by visiting her company website. You can also follow her updates on Twitter. If you want to hear more from her, go back to episode 56 of DNA Today where we discussed ancestry genetic testing.
Look out for our "The DNA Guide For Adoptees" book giveaway in the next couple days on social media (links below)!
Stay tuned for the next new episode of DNA Today. New episodes are released on the first Fridays of the month. See what else I am up to on Twitter, Instagram, Facebook and iTunes. Questions/inquiries can be sent to info@DNApodcast.com.