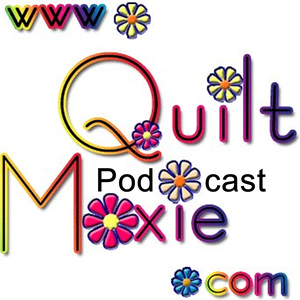 Show notes and everything QuiltMoxie at www.QuiltMoxie.com/shownotes
Topics include:
1. Gallery - UFO
2. KAL Easy Breezy Brioche
3. Prizes
 
There is a UFO (UnFinished Object) in the Gallery. 
 
 
Ariana enjoys the summer and excited about the participation in the Easy Breezy Brioche KAL (knit a long) which began June 1st and is still running throughout the summer.  Enjoy !
We are currently brioching through the 2 remaining KALs.   Do you know how to graft brioche ?  Ariana wants to turn her KAL 2 and KAL 3 scarves into infinity scarves.  Join the brioche fun and win some prizes.
Congrats to Parul a.k.a. PurlCrafty who participated in KAL 1 Easy Breezy Brioche KAL which ended July 31, 2014.  Check out her 2 entries on Ravelry.com .  Yes, Parul is the recipient of the KAL Prize, which was a Knitting Project Bag.
More Prizes.  Yes, we have 100 members in the QuiltMoxie the Podcast Ravelry Group and this means that if you entered the Free Craftsy Class Giveaway, Craftsy may be contacting you with your Free Craftsy Class (value up to $59.99).
Prizes coming soon !  If you are enjoying your show notes by email, get ready because Ariana is planning a Prize Giveaway for being on our mailing list.
Join our mailing list ( at http://eepurl.com/zJ9lH  ) to get your next and every episode with Show Notes delivered directly to your email as soon as the episode is available.  It's a simple one-time drop of your email address into the form and check "receive podcast by email".   We respect your email privacy.