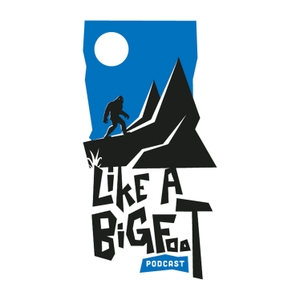 #246: Brittany Charboneau & Rob Steger -- "The Funny Runner"
04.02.2021 - By Like a Bigfoot
This week we are sitting down to chat with two of my favorite guests from the last year of podcasting- Brittany Charboneau and Rob Steger.
We last talked with Brittany right after she finished 13th in the Olympic Trials and since then she has added "accomplished trail runner" to her resume by winning the Pikes Peak Marathon and setting some big time trail FKTs.
Rob Steger of Training For Ultra is an accomplished ultra runner, author, and podcaster who has recently began diving into adventure filmmaking.
Over the last six months, Rob created a short film about Brittany called "The Funny Runner" which explores the themes of running with a lighthearted joy and following your own path versus fitting inside someone else's perception of a "professional athlete." The film is an absolute delight to watch and inspires the viewer to pursue their own passions in their own unique way!
You can check out an early sneak peek of the film by supporting Rob on the Training for Ultra Patreon on April 10th or view it on Youtube starting April 16 (both links are in the show notes).
Hope you enjoy the conversation as much as I did!! Plus I got to nerd out about Hamilton in the outro!
MORE FROM BRITTANY AND ROB:
Training for Ultra Patreon: https://www.patreon.com/TrainingForUltra
Training for Ultra Youtube: https://www.youtube.com/channel/UCoxBqa1BQr-3Bzb1QNB0_uQ
Funny Runner: https://www.thefunnyrunner.com
Training for Ultra Website: https://trainingforultra.com
Brittany's Instagram: https://www.instagram.com/funnyrunner26.2/
Rob's Instagram: https://www.instagram.com/trainingforultra/?hl=en
MORE LIKE A BIGFOOT:
Subscribe and Review on iTunes: https://itunes.apple.com/us/podcast/like-a-bigfoot/id1160773293?mt=2
Spotify: https://open.spotify.com/show/7EhpBoeVG2pcTCGwHG85UG
Soundcloud Archives: https://soundcloud.com/chris-ward-126531464
Stitcher Archives: https://www.stitcher.com/podcast/like-a-bigfoot
Facebook Group: https://www.facebook.com/likeabigfoot/
Instagram: https://www.instagram.com/likeabigfoot/