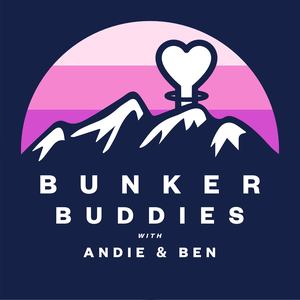 Bunker Buddies
By Andie & Ben
What's Bunker Buddies about?
Join Andie and Travis every Wednesday as they take on every single Apocalypse scenario they (and you the listener!) can think of! They're not preppers, they're comedians so it'll probably get pretty silly. So, hunker in their bunker and let's survive this thing together!
If you have thoughts on episode topics, want to give feedback or just want to be friends: Follow us on twitter @TravisandAndie! The Intro/Outro music is courtesy of Brentalfloss (www.brentalfloss.com). Our artwork is by the amazing Justin Russo!