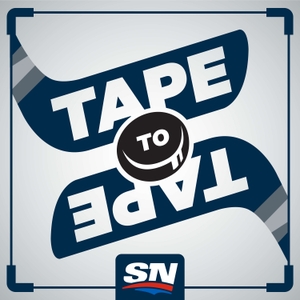 Calling A Cup Winner And Critiquing Canadian Qualifying Losers
08.12.2020 - By Tape to Tape

The Rangers rebuild got a huge boost when the Blueshirts won the right to select Alexis Lafreniere first overall. Ryan and Rory discuss how that will impact an already-impressive core in The Big Apple.
They also examine the future for three Canadian clubs — Toronto, Winnipeg and Edmonton — that were bounced in the qualifying round. Will Rory ever move off his "never trade Nylander" stance? Was this just one of those years for Winnipeg and can Edmonton ever expect to improve without a serious upgrade in the crease?
And then, it's predictions time. Can Rory snap his unbelievable three-year run of picking teams to win the Cup that then get swept in the first round?
Tape to Tape is powered by RAM, back-to-back winner of MotorTrend's truck of the year.
Don't forget to sign up for the Sportsnet Fantasy Hockey Playoff Pool presented by RAM, at Sportsnet.ca/RAM for your chance to win $50,000 in cash prizes and the grand prize — a 2020 RAM 1500 or RAM 2500.
This episode is produced and sound designed by Michael Mayers, and hosted by Rory Boylen and Ryan Dixon.
Tape to Tape is also on YouTube. Watch it here. Our video and social media producer is Mike Tassone.
Audio Credits: YouTube.com/NHL; Sportsnet
The views and opinions expressed in this podcast are those of the hosts and guests and do not necessarily reflect the position of Rogers Media Inc. or any affiliate.